INTRODUCING INREACH SE
THE SATELLITE COMMUNICATOR THAT ALLOWS YOU TO TYPE, SEND AND RECEIVE, TRACK AND SOS ALL FROM THE PALM OF YOUR HAND.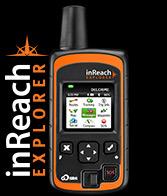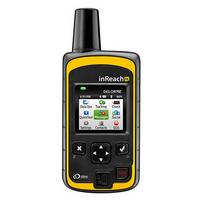 From LOL to SOS and every message in between, DeLorme inReach SE makes any adventure better. With inReach SE, you can both send and receive text messages at the ends of the earth and everywhere in between with the handy color screen and virtual keyboard. When you're off the grid and out of cell phone range, you can quickly and easily share your journey with family and friends, let them ping and message you, and always receive a delivery confirmation that your message was sent -- all thanks to the Iridium satellite network with 100% global coverage. And in the event of an emergency, you can trigger an SOS, receive delivery confirmation, and then have an two-way text conversation with the search and rescue monitoring center until help arrives.
inReach SE: How It Works
inReach SE (Screen Edition) is the satellite communicator from DeLorme that puts amazing functionality in the palm of your hand without having to pair the device:
Send and receive free-form, 160-character text messages outside of cell phone range.
Trigger an SOS and interact back and forth with GEOS, our 24/7 search and rescue monitoring center.
Turn on tracking to share and view GPS coordinates.
Color screen and virtual keyboard with predictive text.
Intuitive LED indicator for satellite availability.
Audible message notifications.
Long-lasting internal rechargeable lithium battery for ultimate convenience and portability. 100 hours of battery life in 10-minute tracking mode with a clear view to the sky.
Designed for maximum durability in harsh environments (waterproof, dustproof, and impact-resistant).
Post to social media.
Built on award-winning technology pioneered with our first inReach device.
Pair inReach SE for the Complete Experience
Both inReach models can be used in conjunction with DeLorme's Earthmate app on a mobile device and our Explore web portal. When paired with your mobile device, the capabilities of either inReach product is enhanced. Previously downloaded map data is only accessible during paired mode. Pairing inReach allows you to use your mobile device to send messages from the Earthmate app.
Earthmate App
Transform your smartphone or tablet into a global satellite communication and navigation tool with our free Earthmate app:
Worry-free navigation and journey tracking.
Unlimited access to downloadable topographic maps and NOAA charts on your paired mobile device.
Automatically syncs with your mobile device's address book for easy texting.
Pairs via Bluetooth.
Explore Web Portal
Prepare and share your journey with family and friends with our Explore web portal:
Share your location and trip details with MapShare, including tracking and GPS information.
Invite others to "ping" your inReach to see your location, activate tracking and exchange messages.
Load preset messages to your inReach.
Link to your social media accounts.
View all your previous trips and messages.
Manage your account and settings, including emergency contacts.
Update your inReach firmware.
Use It. Abuse It. But Don't Lose It.
Prepare and share your journey with family and friends with our Explore web portal:
Color screen with predictive, virtual keyboard for standalone two-way messaging.
GPS accuracy to +/- 5 meters.
Waterproof/dustproof (IP67; standard submersion to 1 meter for 30 minutes).
Impact-resistant (Mil-STD-810F for vibration/shock).
100 hours of battery life in 10-minute tracking mode with a clear view to the sky.

Still need more info?
Download the full inReach Brochure with technical specifications for both inReach products.

NOW also available is the Inreach Explorer